---
Today we are going to take a look at the Horus Talon 1-4x24 mil/mil/FFP w/H50 Reticle. This optic is designed to be a light weight optic with a small footprint that will deliver accurate rounds on target at short to long range without the need to turn a single turret. Seems like a tall order to fill! Lets see if Horus was able to pull it off!

There were surprisingly few models out there with the feature set of the Horus Talon. I didn't even restrict my search to FFP, and considered the SFP options. However, it seems most people don't want anything with hold-overs in their low power optics. The primary role for all my stuff is hunting and competition, so hold overs are pretty important to me. Surprisingly few options out there, and almost none that are a true 1x rather than 1.5x.

I saw this model a year or two ago, and dismissed it entirely due to its $850 price tag. Fast forward to now, and I realize that even an accuracy addict like myself needs to an ammo-munching zombie-slayer ar-15 laying around that can be picked up at a moments notice to get some blasting done. So I revisit the Talon and see they dropped the price $200. After just about spending $1600 on an elcan, it was a no-brainer really. I ordered it, and received it 4 days later.

It comes in a plain white box. Upon opening it, the first thing I noticed was the manual which said "Hakko" on it. WTF? I thought I ordered a Horus? Well, long story short, upon doing some research I find that Hakko is actually "Japan Optics" company. At that point I was thinking this thing probably costs horus about $100. The scope has the typical japanese feel to it. The overall fit and finish reminded me very much of a bushnell 4200. So it wasn't bad, just not anywhere near a Premier. Nowhere near the price either, so my expectations weren't that high. I mounted it in the new AD Recon mount I received from Liberty Optics, and walked outside to the bench.

I knew I would be using a lower power optic, so I created my own target specifically for it. A 3" black ring with a 1" white center. I figured that would allow me to hold a solid point of aim. Ended up working like a charm! I hung one at 100yds and zero'd the scope. I fired one shot, read the reticle and then used my premier 5-25 to check the findings. It was spot on. It was at this point that I was a little surprised to be able to see a 22 cal bullet hole at 100yds in bright sunlight on a white paper at 4x. The resolution and quality of the glass is top notch for a jap scope. Again, it is no Premier, S&B, or Hensoldt here folks, but it seemed to be of good enough quality.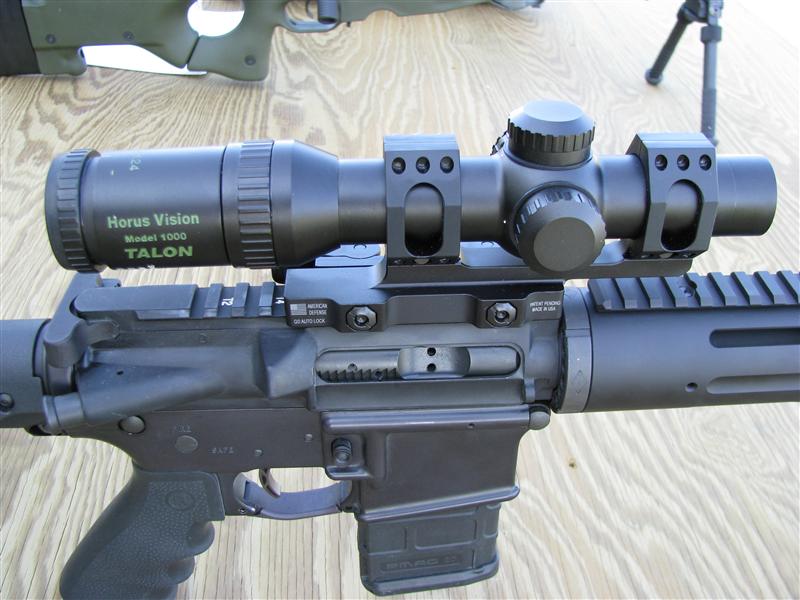 The turrets were clearly marked, and of a strange design. I've not seen that particular type of setup before. Not sure what is under those little covers in the turret, but hopefully they'll stay together. The turrets themselves were nothing impressive. The clicks were mushy, and there was a lot of slop in the turret cap. They would wiggle around to the tune of a full hash mark. So when I would dial based on clicks, I would have to go back and forth a bit just to see what mark I was on. I later found that the marks themselves didn't seem to be directly in time with the clicks. I'll just come out and say it, they are shitty turrets for a scope of this price. Thankfully, I don't ever see myself using them unless I'm changing my zero and that shouldn't happen much. I ended up just relying on the audible clicks to make my corrections.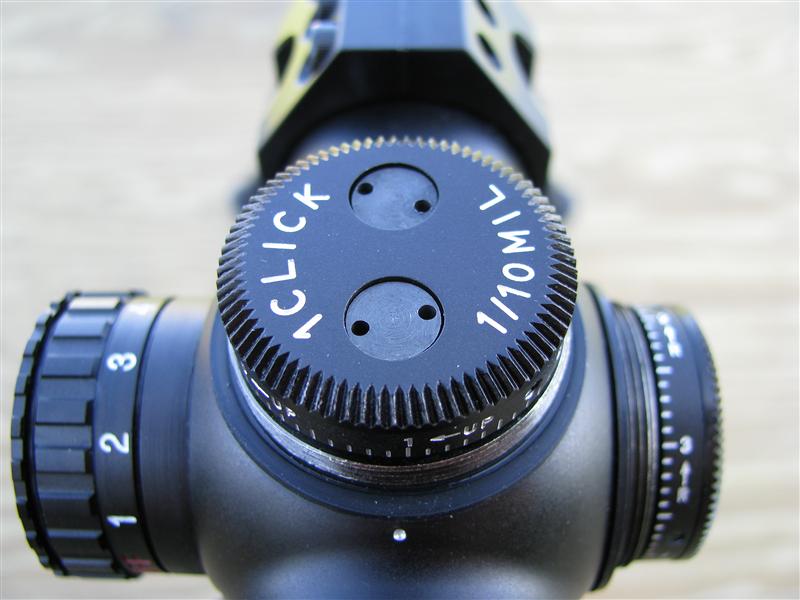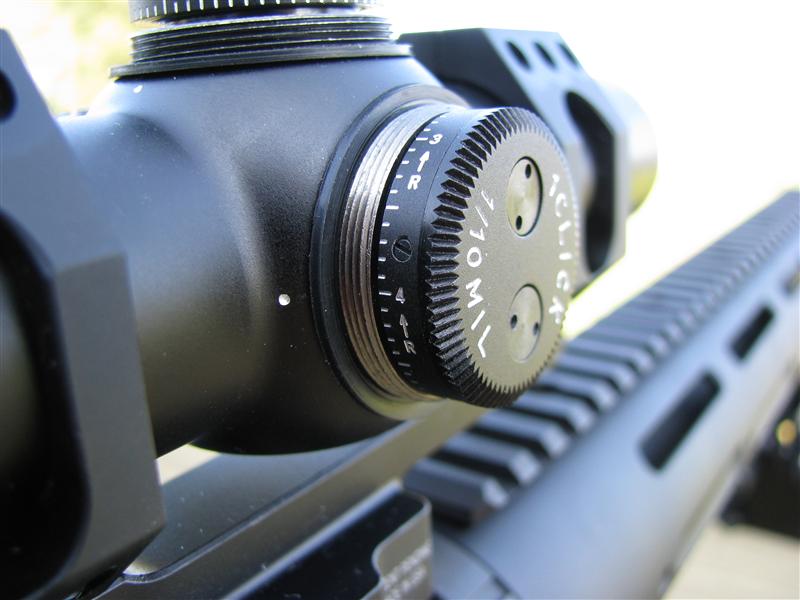 1x POV
Thats an IPSC target down there, to give you an idea of scale. 30" tall x18" wide.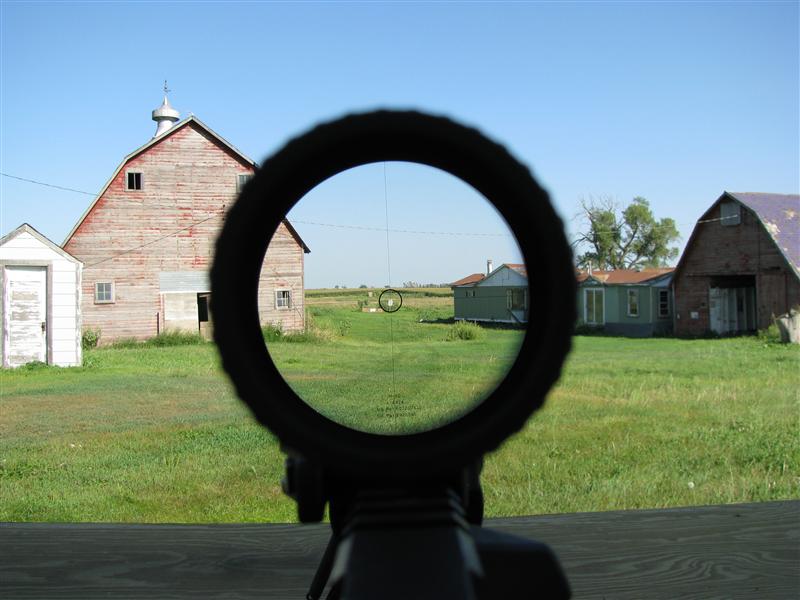 Here I cropped it to get a better representation of what it feels like behind the scope. As you can see, the ring is very pronounced at 1x, with the x-hair being more subdued.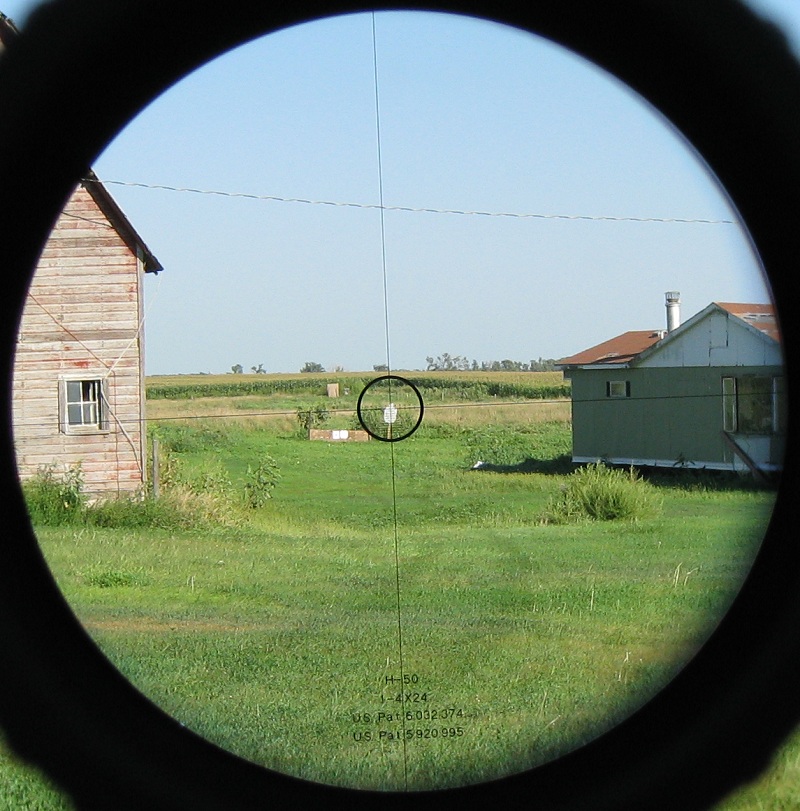 4x - As you can see, the H50 reticle is quite usable. It is not nearly so busy as I thought it would be.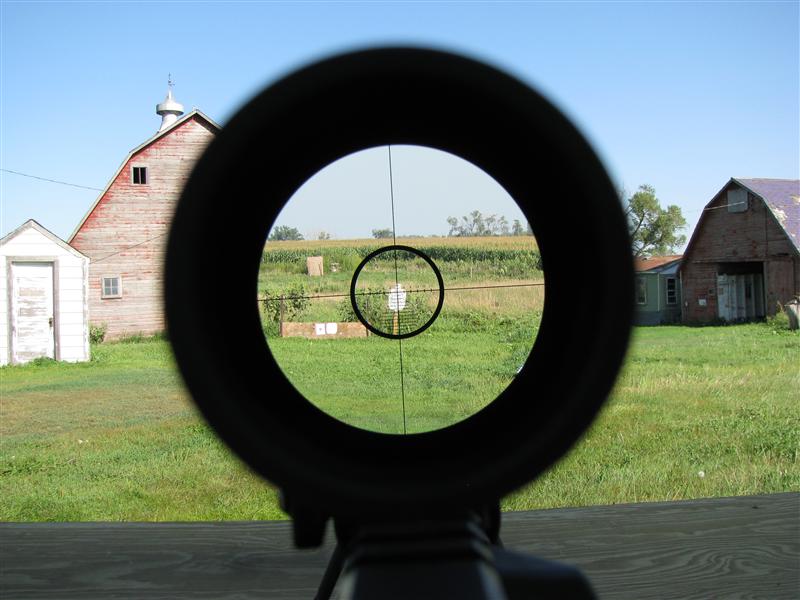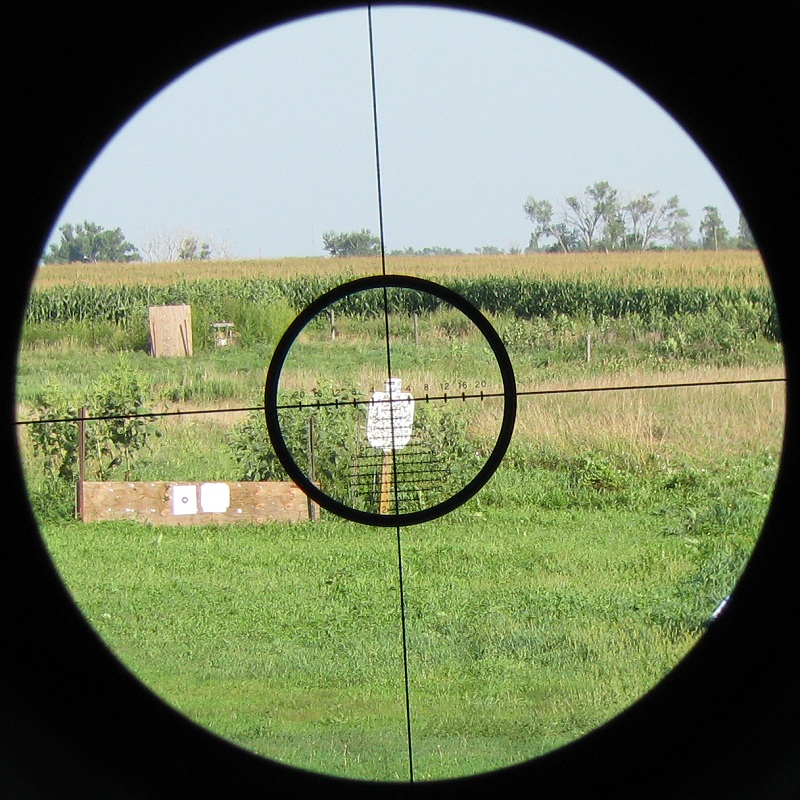 So far, it has tracked well enough to get zero'd, and I verified the reticle subtensions by comparing it to my premier and everything seems to check out.

The real test will be bouncing around in my truck for the next few months.